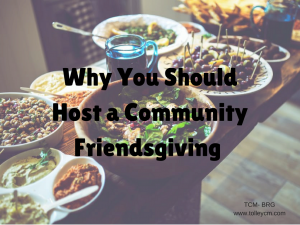 The smell of turkey and pecan pie floats in the air as people gather together to celebrate each other and all of those things which they are thankful for. Thanksgiving, typically reserved for family, should be something that is shared with all of those you are thankful for; that includes your neighbors. As neighbors, you watch out for each other and each other's homes year-round. You develop cherished friendships at the pool during the summer, watch the flora bloom during the spring and enjoy snow days together during the winter. Friendsgiving is another great way to build comradery (and share some yummy family recipes)! Here are five reasons you should share a Thanksgiving meal with your neighbors too:
1. Breaking bread together makes you a better person! According to a study featured in the journal Appetite, sharing meals increases aspects in individuals such as politeness, fairness and respect. Not only are these traits positive to have, they are great to share as well. A community that is built of people with these traits is more likely to thrive than one that does not.
2. Being thankful with one another helps to refocus on the true meaning of the holiday. As frustrating as architectural requests and violation letters can be throughout the year, the greatest thing about living in a close-knit community is the opportunity to share the bounty each person is blessed with. Whether you are a great cook or a great listener, offering your neighbors your skills is something that will be appreciated on this special holiday (and every day)!
3. Thanksgiving is a holiday to be shared! Unlike most holidays, Thanksgiving can be celebrated together no matter your neighbor's religious background. In this day and age, finding something to celebrate that is all-inclusive is rare and something that should be shared and cherished.
4. More food means more smiles! What's a better reason to celebrate with your neighbors if not getting to share new recipes and delights that are normally kept within the walls of your family home? Whether or not you choose to share your family's secret recipe for homemade cranberry sauce is up to you, but getting to share the dish with your neighbors is a delight for everyone involved!
5. It's a time to de-stress and decompress. Out of all of the major holidays, Thanksgiving is most famous for being the least stress-inducing. Cooking mashed potatoes is much easier than trying to decide which gift to get everyone and a lot easier on your wallet, too! Not to mention, on what other holiday are you expected and even encouraged to take a past-meal nap?
Backyard Realty Group DBA Tolley Community Management wishes you a relaxing Thanksgiving. For recipes and decoration ideas, visit our Pinterest!
Post By: Sarah Scott
sarah@tolleycm.com