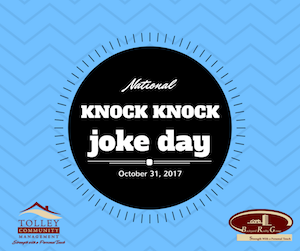 Knock Knock
Who's There?
Doctor.
Doctor Who?
That's a great TV Show isn't it?
Did you know that not only is October 31st Halloween but it is also National Knock Knock Joke Day? Who knew such a day existed? I sure didn't. But it sure does seem like a fun day!
Knock Knock
Who's There?
Stopwatch.
Stopwatch Who?
Stopwatch'a doin' and continue reading!
With a few minutes of knock knock laughs, we will let you know how we can free up your time while saving you money. After all, Property Management is quite serious so we need to add a little fun to our days!
Backyard Realty Group has provided Rental Property Management and Real Estate Services in Metro Atlanta since 2003!
Knock Knock
Who's There?
Mustache.
Mustache Who?
I mustache you a question, but I will shave it for later!
Well we aren't really going to "shave" it for later…we plan to ask now. Do you know what services a professional Property Management company can help you with when it comes to your Metro Atlanta Rental?
Everyone wants to be able to own their time and spend it wisely. We make managing your rental easy on you. You want to be able to do things as you please such as:
Knock Knock
Who's There?
Alpaca.
Alpaca Who?
Alpaca the suitcase. You load the car!
You want to go on vacation and not worry about getting phone calls from tenants interrupting your free time. You want to spend time with your family and not have to meet a plumber when something goes wrong. You don't want the phone call at 2am when there is an emergency.
Knock Knock
Who's There?
Monkey.
Monkey Who?
Monkey is broken, let me in!
Because guess what? Something always goes wrong at some point, a locksmith is needed, the heat won't come on when it starts to get cold, etc. You can let us handle all of that for you! We vet vendors and make sure that your investment is protected by verifying their insurance and making sure they do a good job.
Knock Knock
Who's There?
Potential.
Potential Who?
Potential to save money with BRG as your Property Manager!
Using a Professional Property Manager does save you money! We not only protect your home but you as well. Knowing the Georgia Landlord Tenant Laws, how to enforce a lease, handle evictions, the strict rules around tenant's security deposits and all the other do's and don'ts with rental property management are our specialty. Taking this on yourself can lead to costly lessons that can jeopardize your investment. We ensure that your lease is being followed, if an eviction has to happen it happens correctly, most importantly we guide you to help keep you out of harms way!
Not only that, we determine market value to help you get the best rate for your rental. We don't get paid unless you do, so rent collection is our priority! In addition to collecting rent, you get a monthly owners statement showing all the transactions related to your property that month. At the end of the year we provide you with a 1099 and a Cash Flow Analysis so you can see all the income and expenses on your property. Just hand it over to your CPA, the hard work is done for you!
Knock Knock
Who's There?
Lion.
Lion Who?
I'm Lion if I say we are not the best!!
Our clients agree! Backyard Realty Group is a member of the National Association of Rental Property Management (NARPM) and our Associate Broker has served on the Atlanta Board for NARPM for 3 years. Backyard Realty Group won the Pulse of the City award in Woodstock for Customer Satisfaction in 2016 and 2017! Jen Tolley, our Associate Broker, was named the best female broker in Georgia in 2016 by Corporate America as well as named as a Top National Agent in 2017 by Top Agent Magazine. We pride ourselves on providing great service to our clients all the time, not just some of the time!!
Knock Knock
Who's There?
Police.
Police Who?
Police stop telling these awful knock knock jokes!
Ok, we know Knock Knock jokes are super cheesy, but you have to admit that this is much more fun than a traditional blog and easier to read! We won't tell anymore jokes…
Okay if you really want it, just one more…
Knock Knock
Who's There?
Otto.
Otto Who?
Otto know how to get started using our services!
We make it super easy to inquire on our services, get more information and get a FREE rental home analysis. Just fill out this very short form and we will be in touch quickly!
Post by: Jen Tolley
jen@backyardrealty.com