Meet Jen Tolley...
Where are you from?
I was born in Grand Rapids, Michigan where I lived until I was 15 years old and then we moved to a suburb outside of Chicago. I started college in Illinois and once I completed my Associates Degree my parents moved to Kennesaw, GA and I transferred to a 4 year university in Michigan, Northern Michigan University in Marquette. If you are from the north or know anything about Michigan, Marquette is in the Upper Peninsula on Lake Superior. The winters are insane, we would get blizzards with 3 feet of snow regularly however, and the summers were amazing. My favorite summers were spent on Lake Superior (although the water was generally too cold to swim in), hiking, spending time with friends and walking the small downtown area overlooking the harbor. I visited my parents one Christmas in Georgia and my dad was in shorts hanging Christmas decorations outside, I decided that the warmer climate may be better for me! I eventually transferred to Kennesaw State University and left the snow behind me (well, for the most part). I enjoy living in Georgia and I can't see myself going back north, but I will visit during the summer months! Why I loved the U.P. of Michigan:
Tell us a bit about your professional background. How did you arrive at TCM/BRG?
One of my favorite jobs was working for a dentist as a dental assistant in Illinois. I worked there for 4 years (2 years in high school and 2 years in college). I had to leave unfortunately because we moved. Before arriving at Backyard Realty Group I was a manager in retail. During my senior year of college I had to leave my manager position in order to complete a 30 hour per week internship before graduation as well finish my courses for the semester. I was used to working a full time, 40+ hour a week job and going to school full time so when I left my full time position I found that I had some free time and was bored. I came into Backyard Realty Group initially to help my now husband, Jason Tolley, with marketing his rental listings and real estate listings. In doing so, I found a passion for marketing and began making blogs and websites to help the agents within the office. I decided at that time that I wanted to get into real estate and started working on my real estate license as I was finishing up my last couple of months in college. After graduation I continued to pursue real estate and received my real estate license and my husband and I created our team, The Closers. I also worked in our Rental Department. Several years later, I now work as the Associate Broker of Backyard Realty Group and oversee the Rental & Real Estate Division.
What's most gratifying about your position?
I enjoy working with people and helping people. My college background is in Social Work. Although I am not in the Social Work field I am still helping people daily. We like to make jokes that as someone's real estate agent we are also their "therapist" helping them through the home buying process as it can be very stressful, especially to a first time home buyer. In my position every day is different; no two days are alike which keeps me on my toes and engaged.
How long have you been at TCM/BRG?
I started with the company in 2008 working part-time. In 2009 I received my Real Estate License and moved into a full time position.
What was your favorite moment at TCM/BRG and why?
I don't know that I can pick just one favorite moment. Many of my favorite moments are when all of us are together. We are fortunate to have a great family culture at our office and we regularly have lunch together in the conference room, have office potlucks, do Couch-to-5K walks/runs after work, 4th of July gatherings with our families to watch the fireworks, play pranks on each other & much more! We are a very close bunch that works well together. It makes a somewhat stressful industry so much better with having such a great team! Here are just a few of my favorite memories: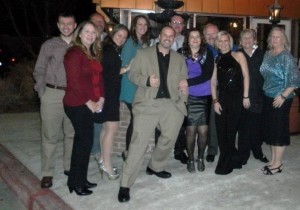 What do you like to do for fun?
I enjoy spending time with my family and friends during my off time. I am also a big baker and love to cook. I am known for making great Christmas Cookies every year. I also love to be crafty – anything that allows me to be creative. My favorite show is Friends and I can watch it over and over again. I own all 10 seasons on DVD and regularly watch them while I am baking, cooking or working on my laptop. I don't even have to see the TV to follow it because I have watched them so many times!
Tell us about your family:
I love my parents and little brother very much. We are a pretty close knit family. My parents and brother both live in Metro Atlanta so I get to see them often. Most of my extended family lives in the North except for a few in Florida and Texas. Our family vacations hold my favorite memories as a child. I am fortunate to get to work with my husband, my in-laws and brother-in-law daily at the office. My husband and I have a dog that is extremely spoiled, Bella, who loves to cuddle and also hates the snow.