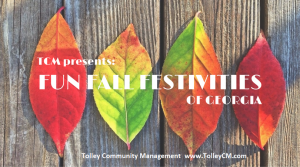 Each Fall the people of the Northwestern hemisphere gather 'round bonfires and sip hot chocolate simply for the enjoyment of each other's company. Those who love summer most worry about how many layers of clothing they will have to wear this winter, but all others rejoice in the nostalgia and spirit that fall possesses. Coming from North Georgia, the colors of the leaves are unparalleled by most other regions and the crisp, cool mornings bring about a rustic smell that, though some may try, cannot be captured in a candle or latte. From the heart of Woodstock, GA, some of our staff have to offer their secret (and not-so-secret) fall traditions and hideaways:
Liz: Burt's Farm- Opens August 27! "My favorite thing there is the hayride." Most famously, Burt's Farm is a pumpkin patch where thousands choose their Halloween pumpkin each year. You can also visit the country store and buy treats and décor!
Amber: Blairsville Sorghum Festival- October 8, 9, 15, 16: "I love the parade! Dad, Blake, and Zack are in it and drive the rat rod together."
Sarah: Apple Festival- October 8, 9, 15, 16: "My favorite thing to do is walk around the festival and look at all of the crafts. The food is not to be missed either- fried apple pies, turkey legs, and chicken & dumplings are just the beginning!"
Susan: Yellow Daisy Festival "My favorite thing is the craftsmanship." (be sure to check this out next year in September 2017!)
Sal: "I like sitting by the fire and roasting marshmallows."
Krissy: "Halloween!" Krissy is a talented FX makeup artist and has done makeup for television and film!
We wish you a happy fall filled with fun, family, and friends!
Post By: Sarah Scott
sarah@tolleycm.com