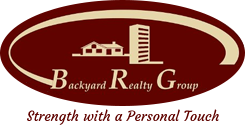 Does Your Home Have Pizzazz?
Preparing Your Home to Sell for the Best Value
Prepared by: Jason Tolley
Backyard Realty Group, LLC
Of course you want to sell your home quickly and for the best value, but have you taken a look at your curb appeal? Have you stood on your curb and looked at your home to see how it appears to potential buyers? Have you de-personalized your space? After all, remember sometime soon you will be handing over the keys to the new owner. Your home is personal to you and your family but the new potential owner wants to envision their family living in your home. It is time to look at your home through the eyes of the buyer!
Stand on the curb or across the street and take a good look at your home. Does the paint look dingy or dirty? Are there cobwebs on the porch? Is the landscaping colorful and inviting? Can you see your home completely or are there tree branches hanging too low? Can you see your house number completely from the street? These are things you want to consider when looking at your home.
According to Tom Silva, a general contractor on the PBS series This Old House, many people "won't go into a house if it looks bad from the outside. Curb appeal is the beginning of getting people to look at the inside." If the outside of your home looks well maintained, buyers can make the impression that the inside is cared for as well.
Here are some quick and easy tips for improving the exterior of your home:
Keep the lawn mowed and watered. Makes sure plant beds are edged. Re-seed bare areas if needed. Remove weeds.
Add mulch or pine straw to flower or plant beds and around trees. This is very effective and inexpensive.
Clean the windows (the more light entering your home the better)
Shine all metal
Change light bulbs and ensure outdoor lighting is functioning properly
Plant flowers where applicable. Also putting a few pots of brightly colored plants near your entry way can give immediate curb appeal.
Pressure clean your house (depending on the construction of your home), the driveway and the deck to give it a cleaner appearance. If the driveway has a lot of cracks consider re-sealing it.
If it is needed paint the outside of your home (remember to use warm and inviting colors). A new fresh coat of paint is the easiest way to get curb appeal.
Paint the front door if it remotely needs it.
Remove branches especially those hanging too close to the house. (Talk to your realtor - we can always get a few professional estimates for you)
Clean gutters and downspouts and make sure they are functioning properly
Inspect and clean the chimney.
Repair or replace loose or damaged roof shingles, loose siding or caulking
Sweep the porch and stairs and put down a new welcome mat.
Next we move to the inside of the home. When you stand at your front door and look in do you feel welcomed? Do you feel like you want to enter the house? Is the house cluttered and hard to move around? Always keep these questions in mind. Remember, "The way you live in your home is not the way to sell your home," says interior designer Timothy Badgley. A house that is properly staged is more likely to sell faster than a home that is not. You do not need to spend a lot of money or hire a professional. Keep these things in mind and do it yourself:
If the interior paint is dingy consider repainting the walls. Painting gives you the best return for the money spent. Try to stick to neutral colors.
Steam clean the carpet. Any worn, stained or badly smelling carpet should be replaced.
Clean up the clutter: if it is not essential to your everyday life box it up and store it away (after all you are moving you will be one step ahead). If it is something you no longer need consider donating it to Goodwill or another non-profit organization.
Closets: make sure they are clean and organized. You wouldn't want a potential buyer to open a closet and have items fall out on them!
Give the entire home a thorough cleaning: dusting, washing and waxing everything,
Keep furniture to a bare minimum - this will make the traffic flow easier and it also makes the room appear to be larger
If shelves are overcrowded with knick-knacks consider boxing some of them up.
Try to de-personalize as much as possible. I know you love the family pictures but buyers want to envision their pictures, not yours. Take down any religious or political paraphernalia.
Make sure the house smells good by using scents that match the season. Try candles, plug-ins, fresh flowers or other air fresheners. According to Jim Adair in his article in Realty Times, "53% of buyers said strong odors such as a pet and cigarette smells had a stronger impact on their impression of a home than overall tidiness and cleanliness, strong wall colors or an outdated facade and landscaping."
Repair cracks, holes or damages to plaster, wallboard, wallpaper, paint and tiles.
When making minor changes to your home keep your budget as small as possible. A buyer may be pleased about a new roof or a new kitchen; however they are unlikely to pay more for this. "There is a big difference between making minor and inexpensive "polishes" and "touch-ups" to your house, such as putting new knobs on cabinets and a fresh coat of neutral paint in the living room than doing extensive and costly renovations, like installing a new kitchen," says Realtor.com.
Kitchen:
Clean exterior of all appliances. Clean the inside of the oven, refrigerator, microwave and dishwasher. (Yes they will look inside!)
Clean or replace the stove hood filter.
Clean cabinet faces and remove all clutter and unnecessary items from the countertops
Clean the backsplashes thoroughly. If you have ceramic tile make sure the grout is clean; if it is discolored there are grout whitening products available.
Put new knobs on the cabinets for a quick and easy face-lift.
Bathroom:
Make sure all bulbs are working (the brighter the better!)
Clean all ceramic tile and grout
If the faucet drips - fix it!
Thoroughly clean sinks and tubs (if there are rust spots try to remove them)
Place fresh towels in the bathroom (especially right before a showing)
Misc Ideas:
If the basement smells musty consider a dehumidifier
Clean the stains on the garage floor and remove the clutter
Replace the furnace filter
Talk to your friends - get their honest opinions about your home
If your home is already vacant consider leaving some furniture behind. According to interior designer Timothy Badgley, "people often mistakenly think that viewing empty properties will give them an accurate sense of the space available, but in fact, it's hard to really understand the size of a room without furniture and other objects as reference points. An empty room allows buyers to focus on negative details instead of getting a sense of the overall space and the flow of each room to the next."
And last but not least consult your Real Estate Agent. They will always be willing to give you advice, help plan changes or get estimates for you!
"A house that sparkles on the surface will sell faster than its shabby neighbor, even though both are structurally maintained!" (realtor.com)
Resources:
Adair, Jim (March 9, 2006): Appealing to Eyes and Ears of Buyers
Dratch, Dana (April 4, 2007): 14 Ways to Make the Most of Your Curb Appeal
Our Family Place: Preparing Your House
Realtor.com: Get the House Ready
Roberts, Ralph (August 11, 2006): Don't be a Staging Stooge
Contact Jason Tolley, Realtor, Backyard Realty Group LLC. Licensed Realtor in Georgia at 770-315-0789 to list your property for sale, to purchase a property or to manage your rental in Northwest Atlanta: Cobb, Cherokee, Paulding, Bartow, Fulton and Dekalb counties.
To view properties for sale visit Backyard Realty Homes for Sale. You can search for listings as well as view our listings. We know the Atlanta Area and will help you with your real estate needs.
Jason Tolley - Real Estate Agent, Property Manager, Community Manager
Copyright © 2008 By Jason Tolley, All Rights Reserved.