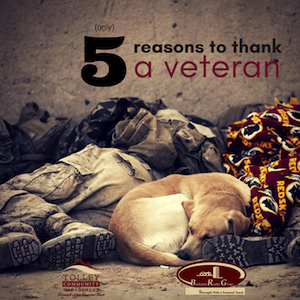 Veteran's Day, formerly known as Armistice Day, is a day to celebrate and thank those who have served and protected our great country. Here at Backyard Realty Group DBA Tolley Community Management we are #VeteranOwned by Mike Tolley, who served in the Navy. We also have Michael Degrauwe , who also served in the Navy as well. These three veterans are a few of the 23.2 million military veterans in the United States of which should be thanked on this special day. Here are 5 reasons you should thank a veteran, today, tomorrow and always:
Thank Them for Their Time: The amount of training, mental preparation and time in-service is unparalleled to any civilian job most of us have encountered. When thanking a veteran, consider the amount of time they have placed into protecting you and your family.
Thank Them for Their Commitment: Whether they signed up for a one-time or extended contract in a branch of the military, choosing to work for the military for an extended period of time without a trial period is a mark of pure commitment and determination. This drive is something that should be appreciated in itself.
Thank Them for Their Patriotism: To risk one's life, he or she must have a passion and love for what he or she is serving. Veterans of the United States Military are no different. Their love and desire to protect the country which they call home is a true mark of patriotism. Thank the veterans you encounter for this trait.
Thank Them for Their Courage: Choosing to risk one's life for the welfare of those in your home country is one of the most courageous and selfless things a person can be a part of. Consider and thank the veterans for their ability to see the big picture and to put the safety and happiness of others over themselves. This is one of the most courageous acts the human heart knows.
Thank Them for Their Strength: To leave one's friends and family to serve notates a caliber of strength unmatched by other careers. To face the enemy at the front line indicates strength of heart unparalleled by anything at all. Thank the veterans for their strength of heart and mind this Veteran's Day and every day.
The service these men and women have provided should be recognized each and every day. The sacrifices that they have faced should never be looked over. Take a moment on this special day to reflect upon and thank the veterans who committed their lives to the United States of America.
Post By: Sarah Scott